Welcome to the Seventh-day Adventist Church at Kinderhook 
In-person services have returned, but you can still join via Zoom.
For in-person attendance, masks are required for the unvaccinated. Moreover, given that most attendees live in counties with high rates of coronavirus, we also strongly encourage even the vaccinated to use masks, as recommended by the CDC guidelines, and in consideration of attendees with vulnerable family members. 
We look forward to seeing you in-person or online! 
To participate via Zoom, please call the church number: (518) 784-4400.
Embark on a journey with God that will transform your life: join us as we discover together new and relevant truths in the Bible.  To learn more about what we believe you can visit our About Us page. 
Please join us on Saturdays for Bible study, worship, and prayer.
Service times: 
Sabbath School: 10:15 am 
Worship Service: 11:30 am
For directions or to contact us, click here.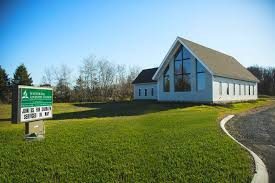 Our house of worship is a certified  "Passive House" construction